Amazing feat of stupidity #12
Created: Thu, April 25, 2002, 10:34 PM

.....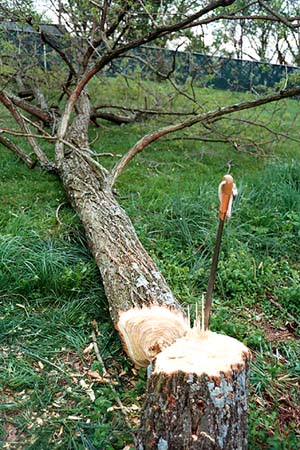 Many times in life you do stupid things unintentionally -- but greatness is reserved for the stupid things you do on purpose. Always striving for greatness, I took it upon myself to accomplish an amazing feat of stupidity.
While visiting my mother in West Virginia (no, we're not from there, no, I've never kissed my sister -- nor do I even have one), my brother told me that he wanted to plant some pear and apple trees on their land. The problem was, there was a big locust tree, that was blocking the sunlight in the area he wanted to cultivate. It had to come down.
I decided that it might be fun to chop the tree down manually -- perhaps it's a guy thing, but there's something enjoyable about felling timber. Perhaps it is the inflated sense of importance that comes from bringing down something so large with your hands. Perhaps it's a throwback to the satisfaction of living "off of the land." Regardless, I decided to give it a shot, and asked my brother if he had an axe that I could use to chop the locust tree down.
He replied that he didn't have an axe, but he had a chain saw. "That's no fun" I said, and frowned in disappointment "You don't have anything at all? No hatchet? Nothing?" He thought for a minute, and said "Well, I do have a machete... but I don't know if you'd want to try chopping down a locust tree with a machete. It's a pretty big tree, and the wood is quite hard as well." Indeed, locust trees are stout enough to be used for fence posts, telephone poles, and even the planks of ships.
I thought about it for a minute, and told him to let me have a look at the machete. "Alright" he said, with a slightly bemused look on his face. I picked up the machete, and started giving the tree some whacks. "I saw a tribe in New Guinea chop a tree down with machetes on the discovery channel once; took 'em a while" he noted casually, and shot me an amused look that said "You have no idea what you're getting yourself into."
It wasn't too bad at first, I went through the soft wood around the outside fairly quickly, though the hot sun was taking its toll. Sweat flew off of me with each strike as I blinked reflexively to avoid the flying wood chips.
I kept at it though, and fairly soon I reached the center wood of the tree, which is devoid of moisture and as hard as nails. I worked my way around the tree methodically, pausing to inspect my progress, and giving my forearms a chance to recover so that the machete wouldn't go flying out of my hands when it struck the tree. A machete hitting the hard center wood of a tree sounds a lot like striking an anvil with a hammer. It feels about the same, too.

| | | |
| --- | --- | --- |
| Full frontal timber nudity | "I'm a lumberjack, and I don't care..." | Hack, hack, hack, hack... |
About an hour later, I had the tree extremely close to coming down. I muttered things like "This tree made it personal!" and thwacked away. "You don't stand a chance, just give up now" I shouted at the tree. It towered over me impassively, not responding to my taunts. Clearly it was being coy with me -- but I had determination, and as my secret weapon, colossal stupidity. I kept on hacking away at the tree.

When there was only about a 3" diameter section of the tree left, my brother offered to pull the tree down the rest of the way with a rope. Perhaps it was pity; but I didn't want to hear any of it. "Don't deny me my moment!" I shouted back and smiled. A few dozen more solid hits with the machete, and I hear the most satisfying sound: the cracking of timber as it gave in to my relentless attacks, and came crashing to the ground.
| | |
| --- | --- |
| The obligatory "money shot" | At times like this, I wish I was ambidextrous |
The tree was felled by a thousand tiny cuts of my machete; I was left with some nasty blisters on my hands, and a satisfied smile on my face.

Never underestimate the power afforded by boundless lack of sense.

.....

Other strange adventures, stories, and pictures can be found here. If you have any questions, please feel free to email me at: andrew@AmbrosiaSW.com

Andrew Welch / el Presidente / Ambrosia Software, Inc.